Select a topic below:
Steelray Project Viewer (SPV) is the world's first Project Navigator. SPV is a powerful tool for viewing, printing, and exporting Microsoft Project files. SPV can view Project files from Project 2007 to Project 2016 and can run on any modern Windows version from Windows 7 to Windows 10, in addition to Mac OS X and Linux.
To open any valid project file, click on the folder icon in the top bar of SPV and select "Open...". After selecting your file you'll see the Gantt Table and on the right you'll see the Gantt Chart (see screenshot below). The splitter can be moved right or left to adjust the view. SPV has nine additional views: Timeline View, Resource Sheet, Resource Usage, Task Usage, Tracking Gantt, Calendar, Network Diagram, Resource Graph, and Task Sheet. Access these views by clicking the appropriate button in the ribbon on the top of the main view.
SPV has two modes: Browse Detail (on by default) and Select Cells. Select Cells works as Steelray always has: you can switch between views using the left side buttons, select cells for copying/pasting, etc... Browse Detail mode allows you to navigate the project in a whole new way. We take navigation to a whole new level by making the data itself your means of navigation. Click Here for a more detailed description of Browse Detail Mode.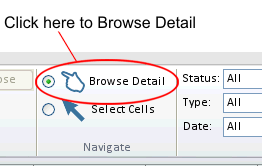 The Gantt Table (left pane) describes each task in the project and is fully customizable. You can add or hide any column. Right-click (or Ctrl-click) in the table to use this feature. Using the toolbar labeled "Status", you can filter the view to see only certain tasks, e.g. Overdue, Milestones, assigned to a specific Resource, etc... Click the "Refresh" button to apply any changes to these filters.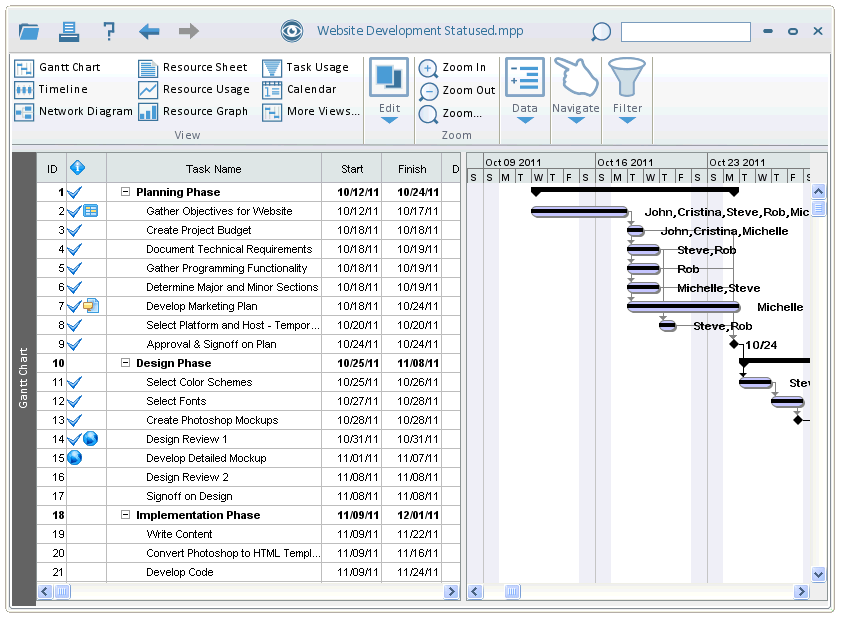 The Gantt Chart (right pane) is a visual representation of the timeline of the project. Each task is represented by a colored bar. Other features include percent complete of each task (black bars running through the task bars), the option to display Resources assigned to the task, and five zoom levels.
On the title bar there are a series of buttons. From left to right these are:
File Menu: Click to open the file menu showing options to Open .mpp files, Export, Open recents, Print and Preferences.
Print: Click to print and preview the current file. You can also change many preferences here to affect the printing appearance.
Help Menu: Click to open the help menu to access Documentation, License information, Check for updates, and go to the Steelray website.
Back and Forward: Navigate back to previous views and selections and go forward again.
Search: Search for text within your project.
Below the title bar is the ribbon control. The ribbon is separated into tabs allowing easy access to all functionality of Steelray Project Viewer From left to right these tabs are:
Views: Access all the available Gantt charts and other views.
Edit: Copy your selections as well as select all.
Zoom: Change the zoom levels for the current view.
Data: Expand or Collapse all tasks in the Gantt Charts. Also, specify the type of detail when using Browse Detail
Navigage: Specify to browse detail information or to use Select Cells mode.
Filter: Apply numerous filters to quickly access the data you need.
Back to Top
Steelray Project Viewer (SPV) is the World's First Project Navigator. SPV isn't a plain 'clone' of Microsoft Project. It makes viewing a project easier and in many ways a better experience than other viewers and even Microsoft Project itself by making the data itself your means of navigation. With Browse Detail enabled (enabled by default), you can use SPV as you would a web browser. Task Names, Resources, and Dates can be clicked to reveal more information about that particular item. For an animated demo of navigating using Browse Detail, Click Here.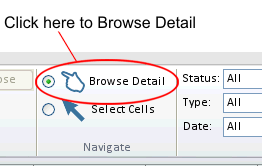 When browsing detail, the cursor changes to a hand shaped icon when you can click an item for a more detailed view. There are three different items that you can click:
SPV keeps track of your last ten views within the same MPP file. The Back and Forward buttons on the far left side of the toolbar work exactly like a web browser's Back and Forward buttons. Opening a new file resets the saved views.
Back to Top
When you downloaded Steelray Project Viewer (SPV), you probably received an evaluation key. To continue running Steelray after the trial period, you'll need to purchase and activate a permanent License Key. There are two types of License Keys: Trial and Registered. Trial keys are valid for ten days after they are generated and allow all functionality; we do not disable any feature during a trial. Registered keys are provided with purchased licenses and never expire. Purchasing a license entitles you to maintenance for the duration of the maintenance period, but you can use the last version you upgrade to indefinitely. You cannot run Viewer without a valid, activated license key.
NOTE: You can visit our support site at any time by clicking the links in the help box at the bottom of the form or by clicking here.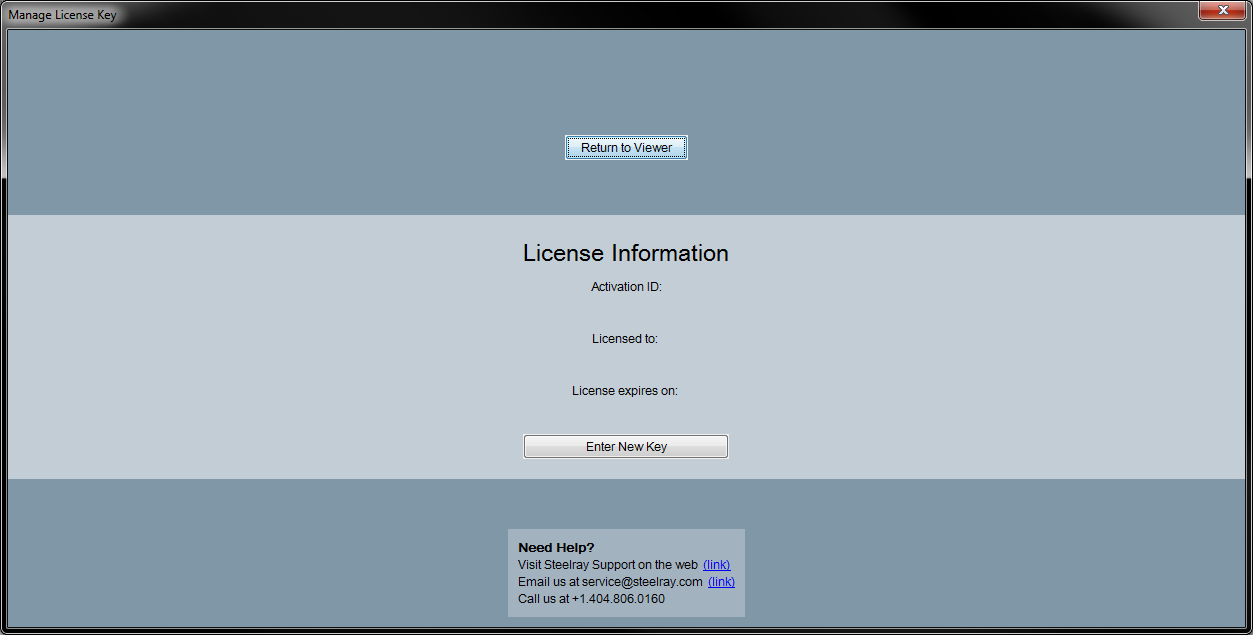 Above is the Manage License Key dialog. This is where your respective license information is displayed. In order to enter a new key or activation code, click 'Enter New Key'.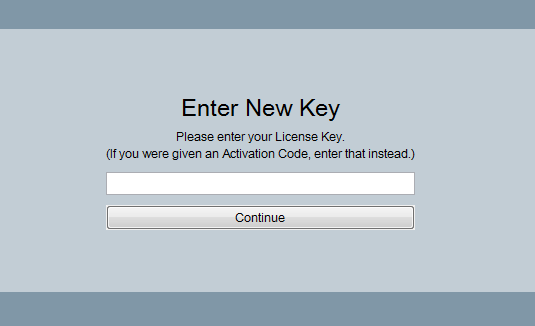 If you copied the the license key or activation code you received by e-mail, you can Right-Click and click Paste, and the key will be pasted into the dialog box.
After clicking Continue Viewer will check the validity of the key you entered. If this key is valid you will be asked to enter your name and email for licensing purposes.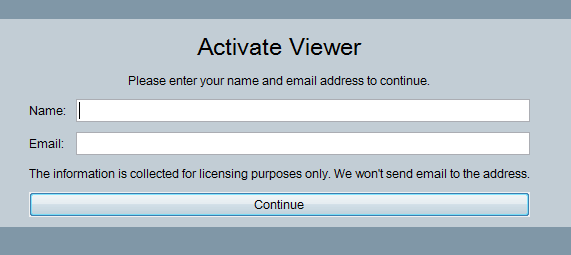 If you click Continue, SPV will contact the Steelray servers and activate your license key, once this is complete you will be running a fully activated license key.
However, if there is an issue with your license key, or a connection error, you will be notified and prompted to re-enter your key or try activating manually.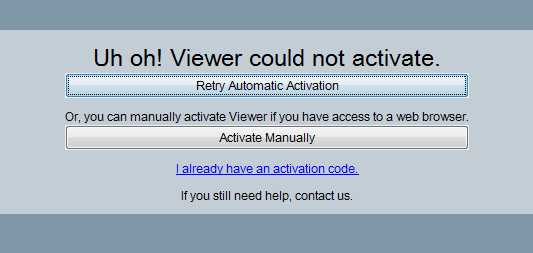 By clicking Activate Manually, you will be taken to our activation webpage, where you will be given an Activation Code upon entering the appropriate information. After entering this code, you'll need to verify your email to continue.

Click Continue and you should now have an activated license key.
Back to Top
The Gantt View takes up most of the main window of Steelray Project Viewer and consists of three areas: the Gantt Table, the Gantt Chart. Note that you can move the splitter between the Table and the Chart to see more of one side.
Gantt Table
This area contains tabular data about each task, i.e. Task Name, Start and Finish Date, Percent Complete, etc. Tasks are organized in a hierarchical manner. For example, in this sample project, "Gather Objectives for Website" is a sub-task of "Planning Phase" (see screenshot, below).

Tasks in bold with a collapsed (plus) or expanded (minus) icon left of their task name are Summary tasks, meaning that they have one or more sub-tasks. An expanded icon indicates that the task is expanded, and its sub-tasks are visible. A collapsed icon indicates that the task is collapsed, and none of its sub-tasks are visible. Clicking on a collapsed icon will expand the task, and clicking on an expanded icon will collapse the task.
Adding and removing columns is simple. Right-click (or CTRL-click) on any column (in the header or data), and choose to hide that column, or insert a column immediately before the selected column. You can add any number of columns in any order. The columns that you choose to show (and their order) will be saved from session to session.
You can also resize any column by dragging the border of the column in the table header and dragging it to make it smaller or larger. To move a column, click drag in the column header and move it to the desired location.
This is the visual representation of the project timeline.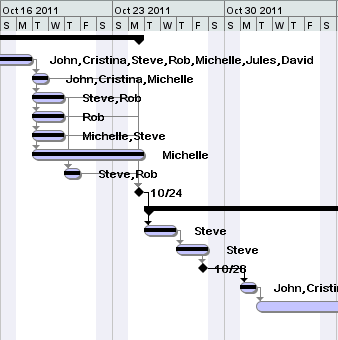 You can Zoom In and Out (using the menu or the toolbar icons) to change to a different time scale. This is the Weekly view. The top of the chart shows a timeline broken down by week and showing individual days. The tasks Start and Finish Dates are indicated by the beginning and end of the lavendar bars (task bars). Percentage complete is shown by the black line running through the task bar. To the right of each task bar are the Resource Names. This is a preference and can be changed in the Preferences Dialog. The arrows indicate the relationship between two tasks. Weekend days are shaded in this view.
Back to Top
The Task Detail View contains the most important information about a particular task. You can see Name, Start, Finish, etc..., but also the Resource(s) assigned to the task, as well as it's Predecessor(s), both in tabular form. You can click in either of the tables to bring up those Resources or Predecessor Tasks. The Next and Prev buttons navigate through the current top view's tasks.
The Notes tab contains notes for the Task, if any. No Notes will be displayed if there are no notes associated with this task.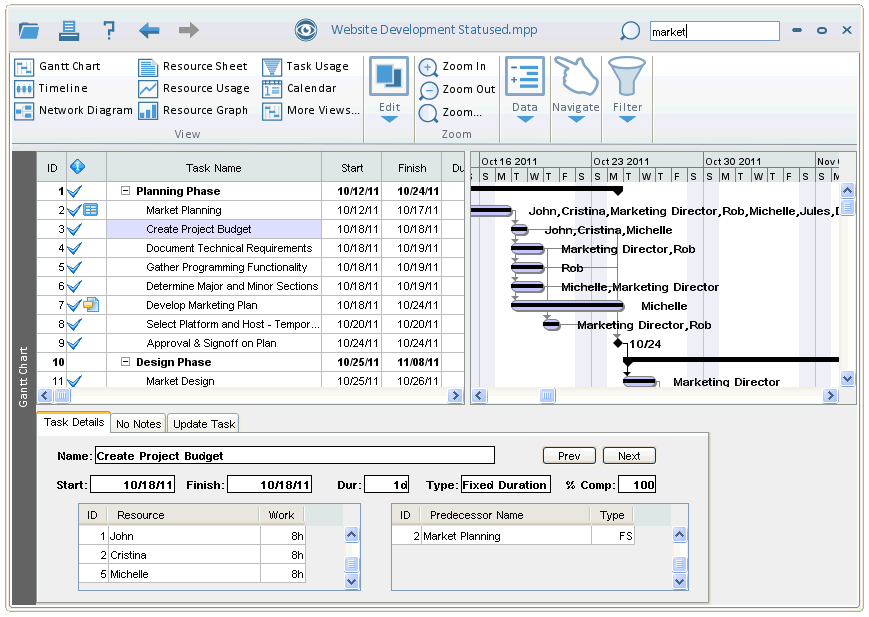 Back to Top
The Date Detail View is a flexible way to look at tasks grouped by a time frame.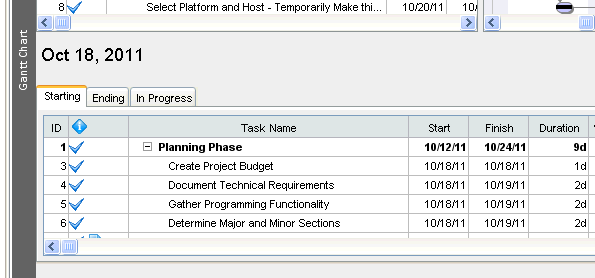 By default, clicking a date will show the Date Detail View for that date only. You can change the time frame by selecting Day, Week, Month, Quarter, or Year from the drop-down menu in the upper right of this view. Selecting Week will show all tasks from the previous Sunday to the next Saturday, for example. Selecting Month will show tasks for that calendar month, and so on.
There are three tabs in this view: Starting (default tab), Ending, and In Progress. Selecting the Starting or Ending tab will show all tasks starting and ending, respectively, for the selected time period. Selecting the In Progress tab will show all tasks in progress (including starting and ending) for the selected time period.

The tables in this view function exactly like the Gantt table with respect to Navigation Mode. That is, clicking any Task Name, Date, or Resource will show the appropriate Detail View.
Back to Top
The Resource Sheet View displays information specific to each Resource. In this View you see each Resource's Name, Initials, Group, Rate, etc...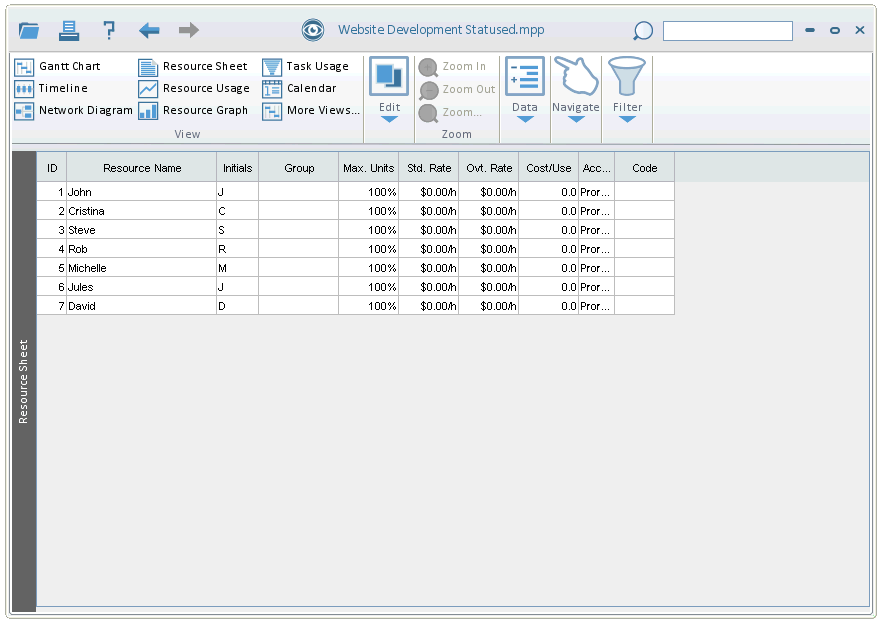 Back to Top
The Resource Usage View displays information about each Resource's usage as a whole and by Task.
The left side view displays Resource ID, Resource Name, and Work. The Work displayed on a Resource line is the total Work for that Resource. Work displayed on a Task line is the amount of Work for that Task for the listed Resource. Expanding or Contracting a Resource affects that Resource only.
The right side displays information by time period for the corresponding line on the left side of the View. Zooming In and Out works as it does in the Gantt View. There are five levels, and each column represents a different time period in each zoom level.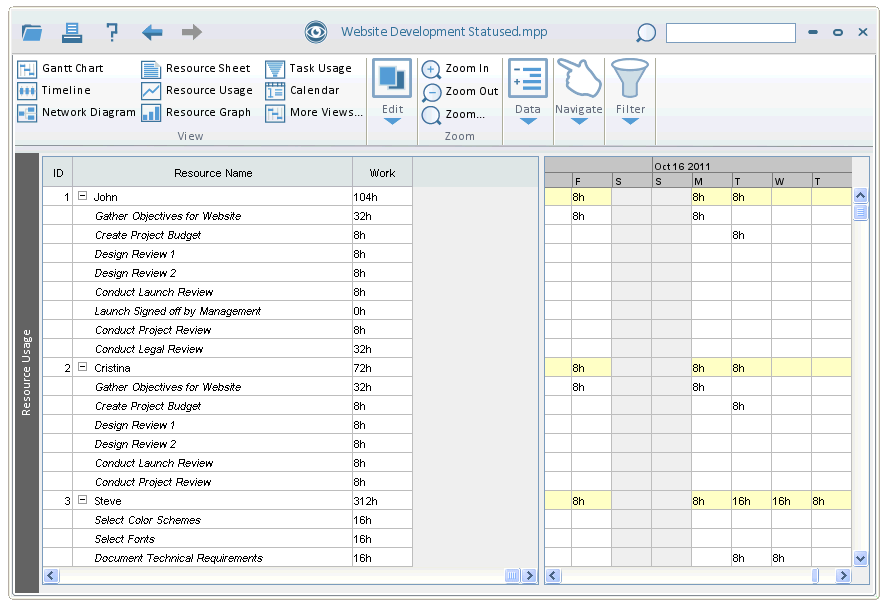 Back to Top
The Task Usage View displays information about each Task as it relates to the assigned Resources.
The left side view displays Task ID, Task Name, Work, Duration, Start, and Finish for each Task. The Work (and Duration) displayed on a Task line is the total Work (or Duration) for that Task and all of its child tasks. Work displayed on a Task line is the amount of Work for that Task for the listed Resource. Expanding or Contracting a Task affects that Task only. Resource lines display information specific to that Resource's involvement in this Task.
The right side displays information by time period for the corresponding line on the left side of the View. Zooming In and Out works as it does in the Gantt View. There are five levels, and each column represents a different time period in each zoom level.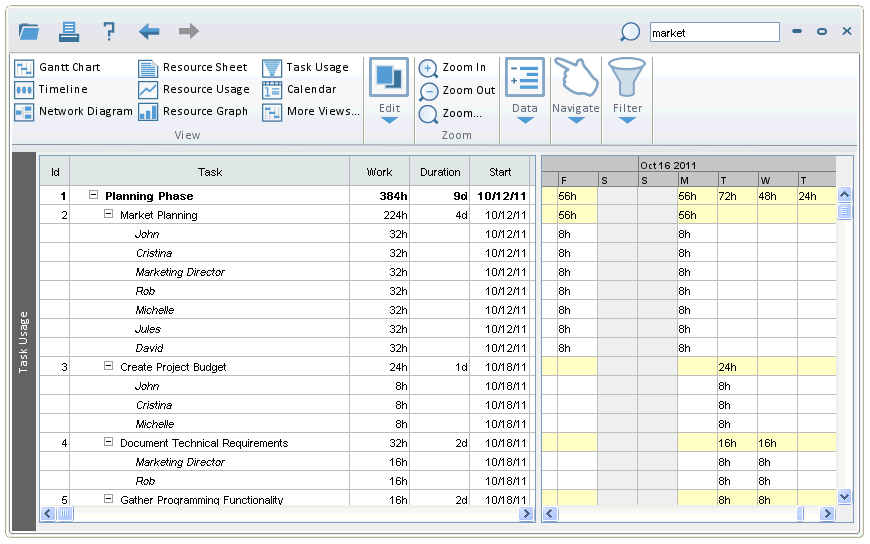 Back to Top
The Calendar View displays one month at a time. Tasks are represented by bars (with Task Name and Duration) spanning one or more days. Clicking prev or next in the upper-left corner changes the month shown. Milestone Tasks are displayed with a black background and white text. To see a complete list of Tasks for a certain day, click that day in the View, and a list of those tasks will appear.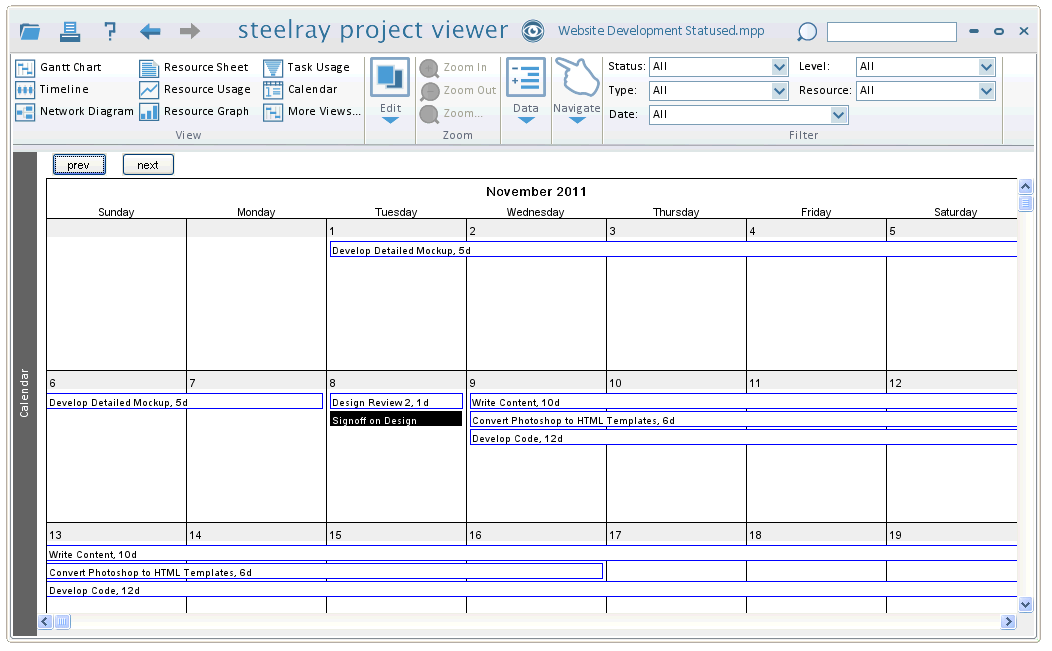 Back to Top
Printing is easy in SPV. To print with the current settings (see Preferences), just choose Print from the File menu (or title bar icon), choose Portrait (default) or Landscape orientation and set the Margins (default 1 inch), and click OK. Your printer dialog will open and you can print to any available printer on your system.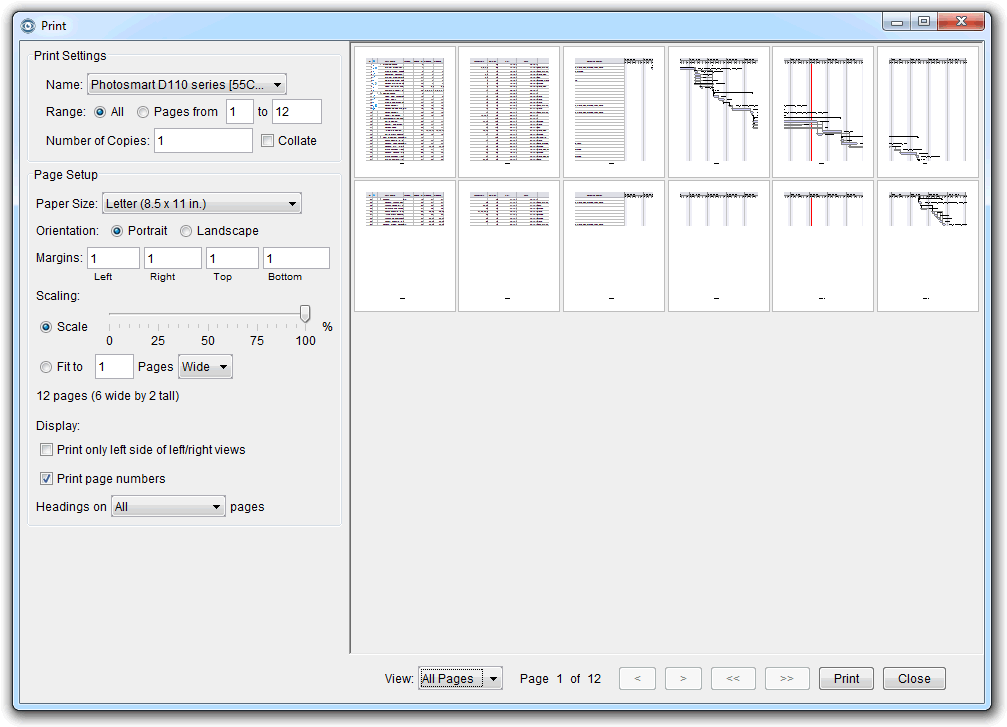 Under Print Settings you can select the printer to print your document, as well as, the range of pages to print and the number of copies and whether to collate.
Under Page Setup you can specify the paper size, orientation of either portrait or landscape and margin size.
By default, Steelray Project Viewer will scale your output to 100 percent of what is shown in the view. Or you can change to the scale to any other pecrent less than or equal to 100.
Alternatively, you can specify to fit to the number of pages and whether to print wide across or tall from top to bottom.
Below this section is the total number of pages to be printed along with how many horizontal and vertical pages to be printed.
You can also indicate the following:
Print only left side of left/right views
Print Page Number
Headings on pages
Using the buttons at the bottom you can print, close the window, and view any page that is to be printed.
View allows viewing a page at 100%, one page to fit, or all pages
Print closes the dialogand prints the file as you see it
Close exits the dialog without printing.
Next/Previous advances to the next or previous page in the printout.
First/Last advances to the first page or last page in the printout, respectively
Back to Top
The Page Setup Dialog contains settings for printing out project plans such as page margins, paper type, portrait/landscape orientation, etc... Each setting that you choose is saved by selecting OK. Selecting Cancel discards any changes that you might have made in the dialog. Selecting Print will print the current project plan. Selecting Preview will take you to the Print Preview View.
Back to Top
You can export the Gantt Table (not the Chart) or the Resource Sheet to two formats in SPV: CSV (Excel) or HTML. Take the same steps to export to either format: On the File menu, choose either Export CSV or Export HTML. Export CSV (Excel) exports to a comma separated file, which is easily viewable in Excel, or any spreadsheet program. Export HTML exports to a standard HTML table, viewable in any web browser.
Back to Top
To copy any or all of the cells to the clipboard, you must first be in select mode. Enter select mode by selecting Select Cells in the Navigate tab in the Ribbon.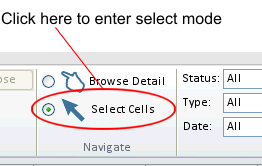 In select mode, clicking on any cell in the Gantt Table will automatically select that cell. To select more than one cell, click in a cell and hold down the left mouse button, drag the mouse to the last cell, and all cells in between will be selected. To select all cells easily, just choose Select All from the Edit menu. Lavender indicates a selected cell.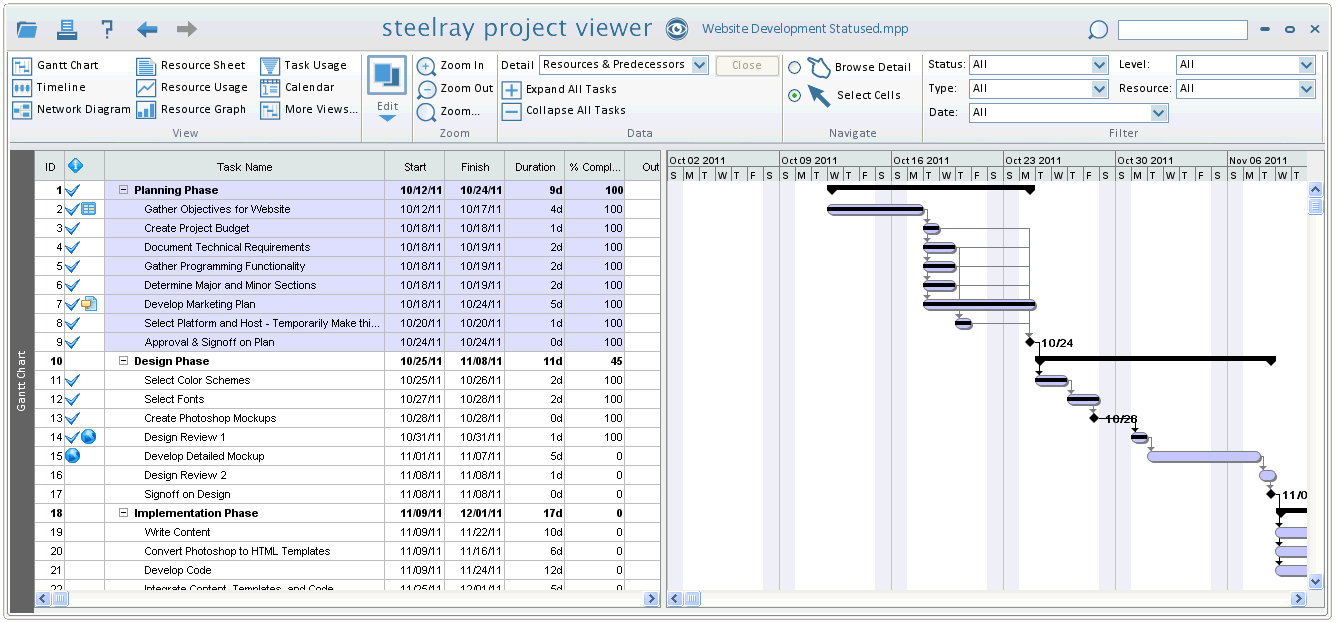 You can choose Copy by clicking the Copy icon in the Edit tab in the Ribbon, or press Ctrl-C to copy the selected cells to the clipboard. You can then paste the cells into any application that accepts Paste from the clipboard.
With some views, you can select either the left or right side of the splitter. Making a selection on one side deselects the other side. Choosing "Select All" will select all cells on the side where a selection was already made, or the left side if no selection was active.
Back to Top
The Preferences Dialog is where you can change the behavior of SPV.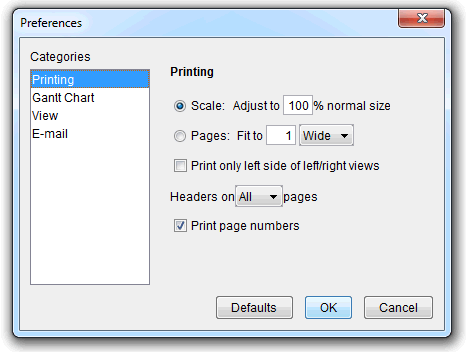 To find the prefences, click on the Folder icon in the top bar and select Preferences
Click OK to accept any changes. Click Cancel to exit the dialog without saving changes. Click Defaults to restore the program defaults.
There are four categories: Printing, Gantt Chart, View, and E-mail.
Printing
You can select to print by Scale (default) or by Pages. Printing by Scale allows you to set a percentage of normal size to print (max 100%, which is also the default). Printing by Pages gives you two options. Printing by pages Wide sets the maximum number of horizontal pages that will be printed. Likewise, printing by pages Tall sets the maximum number of pages vertically.
Print table only (not entire chart): Check this box to print just the Gantt Table (no graphical chart). All visible columns will be printed.
Headers: Select All (default) to see the Gantt Chart Header (date information) on all pages. Select Top to see the headers on the top pages only. Ex. If the printout is 3 pages wide by 4 pages tall, printing headers on Top pages will result in the headers being printed on the first 3 pages only.
Page Numbers: Check this box to see page numbers at the bottom of each printed page (checked by default).
Gantt Chart
Choose what to display to the right of a task bar in the Gantt Chart.
No Text: Displays nothing (default).
Resources: Displays all Resources assigned to this task separated by commas.
Percent: Displays Percent Complete for this task.
Task Name: Displays the name of the task.
Display Saved Gantt Chart: If checked, when a MPP file is opened, SPV will display the same columns as they were saved in the Gantt Chart View in Microsoft Project. Any filter that was applied will be preserved upon opening as well.
Draw Dependency Arrows: If checked, dependency arrows in a Gantt Chart will be drawn.
View
Choose the date format to display in the Gantt Table.
Months First: Choose to display Months first, e.g. "12/31/2008" (default).
Days First: Choose to display Days first, e.g. "31/12/2008." You can also choose the date separator and one of nineteen date formats.
Use Project Date Format: If checked, the date format used in the MPP file will be applied.
E-mail
If you use our Task Update feature, you will need to input your From: e-mail address, your SMTP server (SPV only supports unauthenticated SMTP at this time), and your SMTP port (usually 25).
Back to Top
The Help Menu is where you go to check for updates, re-enter your license key and get help on Steelray Project Viewer (SPV).
To find the Help Menu, click on the ? in the top bar of SPV.
Your options are:
Help: This help file.
Manage License Key(click to find out more):
Go to Steelray Website: Click here to be taken to the Steelray Website. Here you can find the latest news about SPV.
Order Steelray Project Viewer: Click here to be taken to the Order and Pricing page on the Steelray Website. SPV is only $34.95 with discounts for multiple licenses.
Check for Updates: Click here to be taken to the Steelray Updates page. Here you can check for a newer version of Steelray and see the features and changes in our latest release. We release more often than most companies, so check here often for improved version of SPV.
About Steelray Project Viewer: Click to find out the version of SPV that you are running.
Back to Top