High quality schedules lead to a true critical path
Steelray Project Analyzer is software that takes the pain out of creating, maintaining and delivering quality schedules. With Analyzer, you can evaluate your project schedule for quality and performance in minutes and produce understandable results. Schedules can be analyzed against project management best practices, internally defined best practices and government best practices. Analyzer supports Microsoft Project, Primavera P6 and UN/CEFACT XML.
Free Trial
Purchase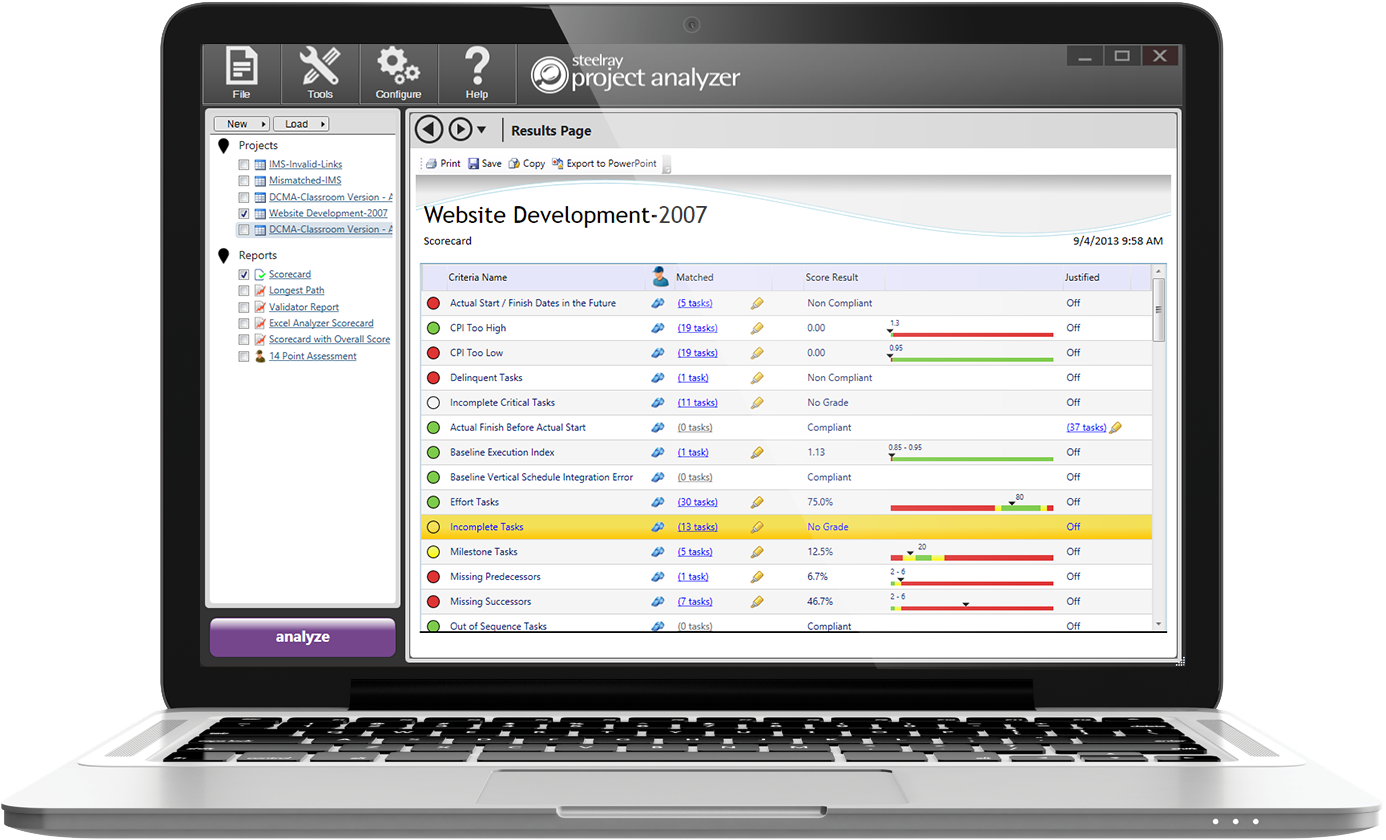 Analyze your data with ease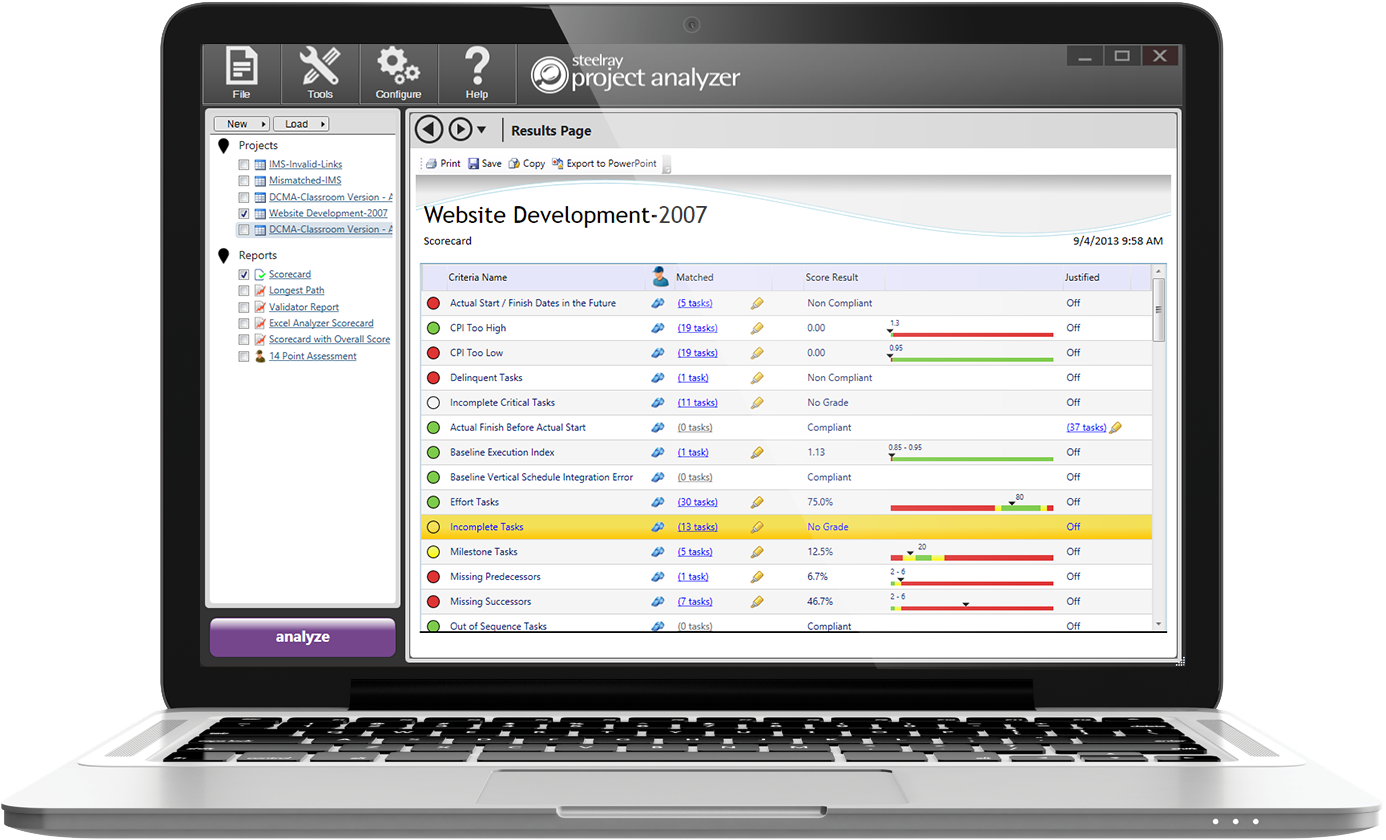 Discover Project Analyzer
Easy to Read Scorecard
Our innovative scorecard shows you the results of each check at a glance, using easy to read green, yellow, and red indicators. Our innovative score strip shows you a great deal of information in a compact space. Each scale is completely customizable.
Powerful report gallery
Analyzer comes pre-configured with all of the reports needed to analyze the quality of your schedule. In addition to our innovative scorecard, Analyzer includes the DCMA 14 Point Assessment, a schedule comparison report, a validation report, a longest path tool, and many more.
DCMA 14 Point Assessment
The Defense Contract Management Agency 14 Point assessment is a series of checks that help ensure that your schedule has a trustworthy critical path. Steelray Project Analyzer provides a report that runs this assessment on your schedule and explains the results in a clear, easy to understand format.
Built-In Scheduling Enyclopedia
Steelray Project Analyzer includes The Coach, a built-in encylopedia that dives deeper into your results, explaining the in simple terms. For some users, The Coach teaches them the fundamentals of schedule quality. For others, it serves as a quick reference.
Jump to the Native Schedule
When tasks are flagged by Analyzer, simply click on a hyperlink to filter those tasks in the native scheduling application (e.g. Microsoft Project). Steelray Project Analyzer provides a smooth workflow to fixing schedule quality issues.
What people are saying
I have to tell you how much analyzer has helped me. I have cut my analysis time by 80%. I let Steelray Analyzer do it for me. My engineering group loves the excel output. Edward Drielak

ITT Corporation
Steelray Project Analyzer was developed with the end user in mind. I have been using this tool for a few years now and have been impressed with its ease of use and robust functionality. Project Analyzer has matured with technology by adapting to the latest versions of the products it supports. Additionally, the professional manner in which their customer support staff works with the user is top notch. Paul Ibarra

BAE Systems
Analyzer is well thought out like they had been in my arena for the past 10 years. They really knew what issues the end user would have. Wroy Jordan

General Dynamics C4S
Download a Free 10-Day Trial
Version 6.1.44.616
25-January-2018
Excel spreadsheet non-numeric cell patch
Version 6.1.43.615
21-November-2017 
Version 6.1.42.614
10-November-2017 
Purchase Project Analyzer Subscriptions
$1500
per user per year
1 - 4 Users
$1350
per user per year
5 - 9 Users
$1275
per user per year
10 - 14 Users
$1200
per user per year
15 - 19 Users
$1125
per user per year
20 - 29 Users
$1050
per user per year
30 - 39 Users
$975
per user per year
40 - 49 Users
$900
per user per year
50 - 99 Users
$750
per user per year
100 - 249 Users
$450
per user per year
250+ Users
Order Form